Here you will find solutions for the catering industry
PRO ASCOBLOC Sp. z o. o. is one of the leading Polish producers of catering furniture and stainless steel equipment. The production plant is located in Syców in Lower Silesia, in the immediate vicinity of the S8 Wrocław–Warsaw route.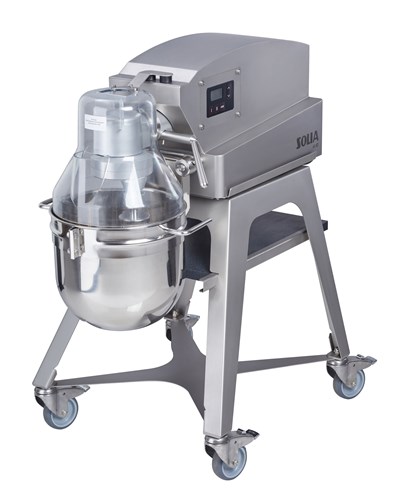 PRO ASCOBLOC produces the highest quality catering equipment. The materials used and modern design ensure long-term and failure-free use of furniture and devices, hygiene and high functionality.
PRO ASCOBLOC boasts one of the most modern factories in Poland. Machinery based on equipment from the world's best brands, highly qualified staff and the highest quality raw materials meet the growing market requirements and customer demand.
PRO ASCOBLOC is the exclusive distributor of DEBAG and AlexanderSolia devices on the Polish market.
AlexanderSolia has been combining traditional brands with 100 years of history for over 15 years, bringing Alexanderwerk and Solia Palmer under one roof. Universal kitchen appliances are produced here, both for professional kitchens and for industrial purposes. AlexanderSoila's goal is to continue and further develop the high-quality production of kitchen appliances "Made in Germany". As a medium-sized company with headquarters in Remscheid, we have become the market leader in universal kitchen and processing machines in Germany.
AlexandrSolia belongs to a strong group that can fulfill all your wishes.
Due to belonging to the group of companies that includes ascobloc Gastro-Gerätebau GmbH
and DEBAG Deutsche Backofenbau GmbH, AlexanderSolia is able to offer and supply complete processing solutions for customers working in demanding sectors. "Thanks to this close partnership, we combine competences, strengthen our distribution network and generate many synergies for the benefit of our customers.
New products also on POLGRA
M50 – multifunctional processing device
The M50 multi-function processing machine consists of a separate drive and various attachments for food processing and preparation. The device is ideal for use when serving up to approx. 1,000 meals a day. The machine housing is made of 1.4301 stainless steel sheet. Access to individual components and operation are easy
and ergonomically. Due to the ease of replacing the accessories, the device can be used for cutting vegetables, mincing meat (the so-called "meat wolf"), mixing, whipping and kneading masses.
M50 perfect for:
cutting,
shredding,
rubbing,
dicing,
mixing,
whipping,
kneading,
grinding,
cutting,
softening
A special feature of the M50 machine is a system that protects the interior of the head against unauthorized access while the device is operating.