Polagra 2023 with six halls
The POLAGRA fair is held under the slogan "Designed with taste". It is around it that the multi-level environment of the food and HoReCa industry is created. This year, they are planned in as many as six pavilions, which will provide ideal conditions for exhibitors and visitors.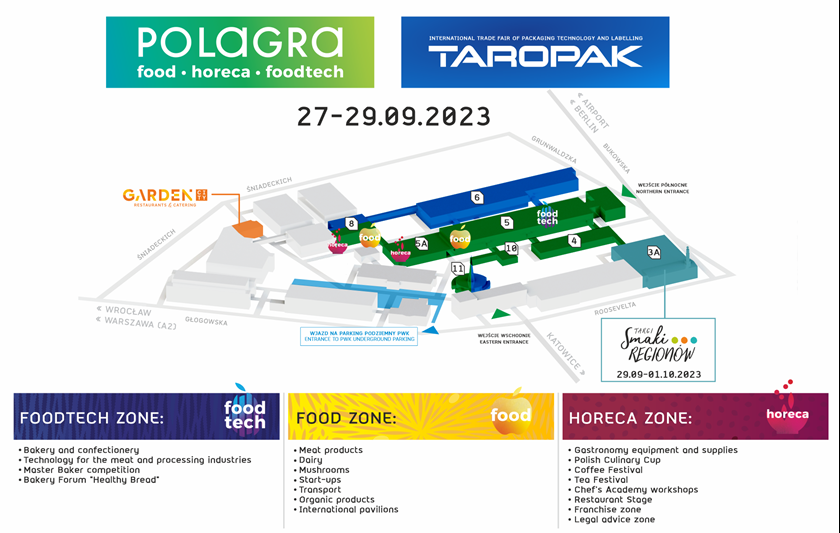 A wide range of potential exhibitors and the expected large group of visitors to POLAGRA mean that the fair has been planned in as many as six pavilions. Exhibitors are therefore given the opportunity to locate their stand in the best possible way and find themselves in the most convenient place where visitors can find them.
Among the current exhibitors of POLAGRA 2023 there are already leaders of the Food, Foodtech and Horeca showrooms. It is worth joining them if your company operates in areas such as:
solutions and technology for the food industry,
food products, including oils and fats, cereal products, sauces, additives,
equipment and products for convinense points,
ready meals,
products and technology for bakery,
raw materials, food production additives, herbs, spices, nuts, dried fruits,
coffee, tea, water, juices, drinks,
fresh fruit, vegetables, mushrooms, preserves and frozen foods,
meat, sausages, fish and dairy products,
organic, natural and traditional food, functional food,
products for people with gluten, lactose intolerance and diabetics,
own brand and contract production,
logistics dedicated to food products that require transport and storage at the right temperature,
equipment and products for the HoReCa industry.
It is in Poznań, on September 27-29, during the POLAGRA fair, that you will meet the most important visitors, 80 percent of visitors are people who make key decisions in their companies.
Any questions? Contact us!