Charity Long Table from PositiveWays
This is an event that has never happened in Poznań before. Gala dinner in the open air served at the Common National Exhibition Square. Among the special guests - Ben Collins, a British racing driver.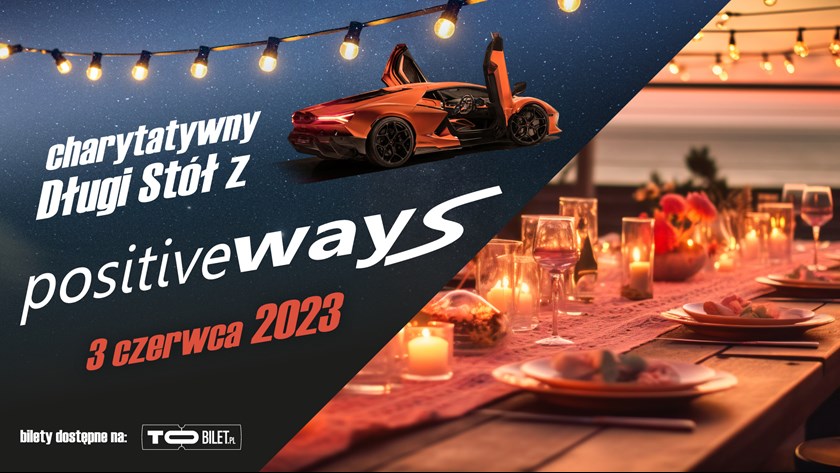 Positive Ways is an annual rally of super-cars through Poland. Within 6 days, 100 cars will travel 800 kilometers visiting 4 cities for a good cause, as the income from the entire event will support the action supporting Polish hospices. On June 3, the participants of the expedition will visit Poznań. At 14:00 they will enter the cavalcade to the Poznań International Fair and park at the General National Exhibition Square. It is there, surrounded by luxury cars, that a unique dinner will take place.
Fine dining under the open sky
An evening meeting combined with an auction is a permanent element of the Positive Ways expedition. In Poznań, this point of the program will have a unique setting. An unforgettable experience awaits the rally participants and guests who decide to buy a ticket. June evening, long table, exquisite menu and live music. It will be an opportunity to try dishes prepared by the chef, winner of the Polish Culinary Cup - Tomasz Zdrenka. One of the announced guests will be Ben Collins, known, among others, from the Top Gear program and during the auction you will be able to bid on many automotive gems. The musical setting of the evening will be provided by the singer, pianist and songwriter Mateusz Ziółko.
Income from the sale of tickets for this unique, charity dinner will be credited to the account of the Positive Ways Foundation, which will support a selected goal in Poznań as part of the Positive Ways Polska Dla Hospice project. The number of places for the Charity Long Table with Positive Ways is limited and tickets are available at the following link: https://tobilet.pl/kulinarne-wydarzenie-sezonu.html
Charity Motor Picnic
Super fast cars will be on display at the Poznań International Fair on Saturday, June 3, from 2:00 pm to 6:00 pm. Part of the charity picnic will also be an exhibition of historic cars in Pavilion 2, which will be taken care of by the Automobilklub Wielkopolski celebrating its 100th anniversary.
On Sunday, June 4, Positive Ways cars will be on display from 8:00 am to 11:00 am, when the event will move to Tor Poznań.
Tickets are available at the following link: https://tobilet.pl/czdrowie-piknik-motoryzacyjny-z-positive-ways.html Income from ticket sales will go to the account of the Positive Ways Foundation.