The online platform will support stationary meetings at POLAGRA
Tickets to the POLAGRA fair are now available. What is the planned formula of this year's event?
The POLAGRA fair is one of the key events for the food and catering sector. Every year, the event is visited by over ten thousand guests, both from Poland and abroad. This year, both exhibitors and visitors will be able to significantly intensify their activities with a view to acquiring new contractors. This is due to the development of the fair formula − the traditional one, based on face-to-face meetings on MTP Poznan Expo fairgrounds, will be additionally supported by a dedicated online platform.
The fair is primarily direct contacts, meetings in the scenery of numerous stands, the opportunity to taste new products, and see machines in operation. Nothing can replace such an option and the only problem is that there is too little time to reach each exhibitor and learn about their offer. This year, however, this problem has been solved thanks to the additional possibilities of conducting online meetings.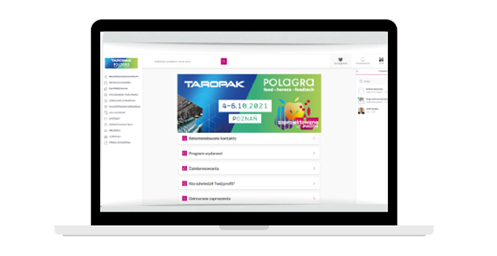 The POLAGRA internet platform is a new step in the implementation of trade fair projects, based on the operation of artificial intelligence used in associating business partners. After registering the participation, the application will recommend potential partners to visitors, and the appointments will be saved in a calendar synchronised with Google and Outlook. Visitors will be able to see the list of Polagra exhibitors, invite them to meetings, and view the list of products offered by them. Participation in the fair, enriched with the use of the online platform, will therefore offer great opportunities for expanding business contacts. In addition, it will also be an opportunity to expand knowledge about the industry during online conferences and congresses, including POLAGRA EXPORT MEETING.
This formula of the fair, combining meetings in the exhibition space with online meetings, will significantly expand the scope of the event. Both platforms for talks are not mutually exclusive, but they create a symbiotic solution that both allows for more meetings per company and for more effective development of the network of relations with foreign partners, even in the event of travel restrictions.