Winners of the Gold Medal of Grupa MTP 2021 competition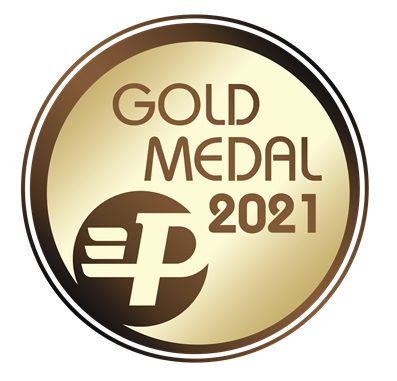 The companies whose products have been awarded the MTP Gold Medal, you can meet during POLAGRA fair (4-6.10.2021) at the Poznań International Fair or to the online space on a special online platform.
Winners of the Gold Medal og Grupa MTP 2021 competition
FOOD
SALON
"Mała czarna" candy
Krajowa Spółka Cukrowa S.A. - applicant, Fabryka Cukierków Pszczółka S.A. - producer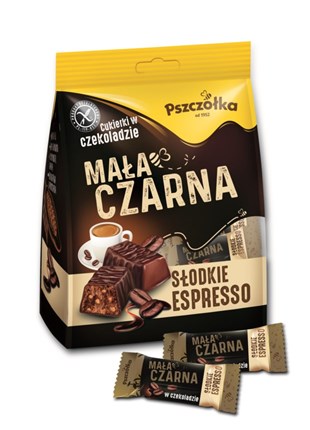 Fabryka Cukierków "Pszczółka" Sp. z o. o. presents "Mała Czarna" (Little Black) candies − a delicious novelty covered with velvety chocolate. It is a combination of aromatic coffee, rice crisps and carefully selected chocolate, which provides a unique structure and surprising crunchiness. The coffee candy stimulates the senses and provides an unforgettable taste experience. Discover the unique character of a sweet espresso and enjoy a moment of sweet carefree. The mass contains delicious coffee coated with velvety chocolate. The dairy products included in the product come from Polish suppliers, and the rice crisps are safe for people with celiac disease − gluten intolerance. It is a gluten-free product, contains no dyes, no preservatives and the dark chocolate contains 46% cocoa mass.
Cream dip with herbs 125 g
Okręgowa Spółdzielnia Mleczarska w Kole - applicant and producer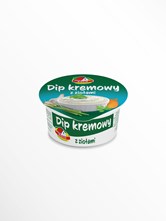 The cream dip is a ready-made solution for cooking. It has a very wide range of uses: as an addition to salads, raw vegetables, soups or sauces, and it is also perfect as a dip for meats and other grilled dishes. It tastes great with baked or new potatoes.
Frutuś purée juice 250 ml
Krajowa Spółka Cukrowa S.A. - applicant, Krajowa Spółka Cukrowa S.A. - producer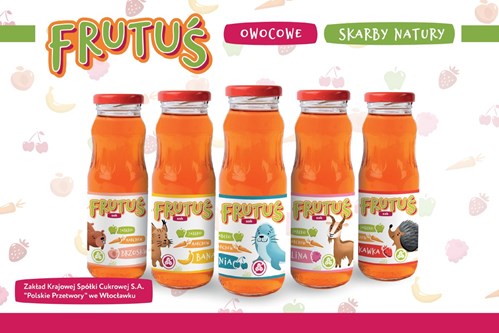 FRUTUŚ is only 100% apple-carrot purée juice with the addition of: banana, peach, raspberry, strawberry, cherry. The juice does not contain: sugar, gluten, preservatives or colourants. The beginning of school is a special moment. Parents lose control over what their children eat and drink during the day − and this is a strong basis for further physical and mental development. Frutus provides the ingredients necessary for the proper development of a child in the form of tasty juice. Marketing communication aimed at children aged 6-11.
Raspberry kephir with 13 live cultures of bacteria 0.5l
Okręgowa Spółdzielnia Mleczarska w Kole - applicant and producer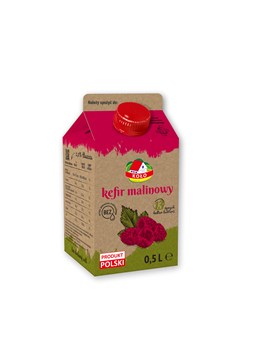 The raspberry kephir containing up to 13 live cultures of bacteria manufactured in Koło is a refreshing drink with health values packed in an environmentally-neutral, fully recyclable cardboard box. The small, convenient format and the possibility of multiple opening make the product perfect as a lunch to school, work or on a trip. It fits perfectly with the idea of "on the go" snacks.
MiaMu curd bar line
Spółdzielnia Mleczarska MLEKOVITA - applicant and producer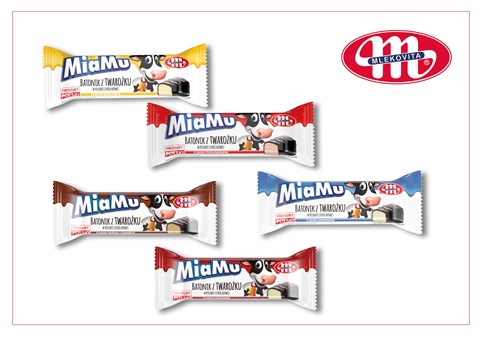 The MiaMu curd bars are available in 5 flavours: hazelnut, cherry, strawberry, vanilla and coconut in chocolate coating. They are rich in protein (as much as 85% of the bar is a creamy curd mass), which is a building block of tissues and a source of energy, a snack not only for the youngest users. They are perfect as a sweet, healthy and valuable snack. MiaMu curd bars will successfully replace traditional sweets.
A line of Mountain Specialities from Zakopane and Sanok
Spółdzielnia Mleczarska MLEKOVITA - applicant and producer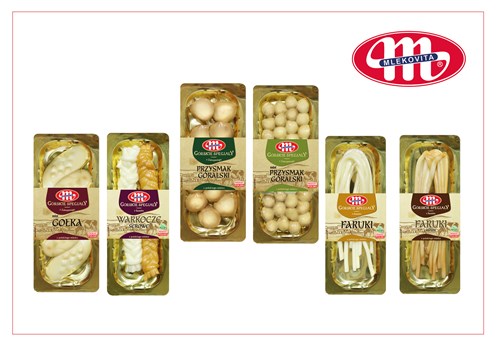 The Górskie Specjały (Mountain Specialities) line is Mlekovita's response to market trends and the growing expectations of consumers who are looking for healthy and tasty snacks in a convenient form. The Górskie Specjały cheese line are offered in unusual forms, e.g. in the shape of braids or balls, which owe their unusual taste and aroma to the origin and the smoking process. They are perfect for a cheese board or for exquisite salads. Perfect as an independent snack.
Dar Pure yoghurt line 250 g
Spółdzielnia Mleczarska MLEKOVITA - applicant and producer
The Dar Pure yoghurt contains only 3 ingredients: yoghurt, fruit and oats. The fruit content of 39% gives it unique taste qualities. It is a lactose-free product with no added sugar. Produced only with the best quality ingredients, offered in a convenient bottle in an optimal portion of 250 g. Available in three flavours: mango-banana; strawberry-banana and peach-banana.
Kajmaki Kuchmistrza line − classic 350 g and 1 kg, and chocolate 350 g
Spółdzielnia Mleczarska MLEKOVITA - applicant and producer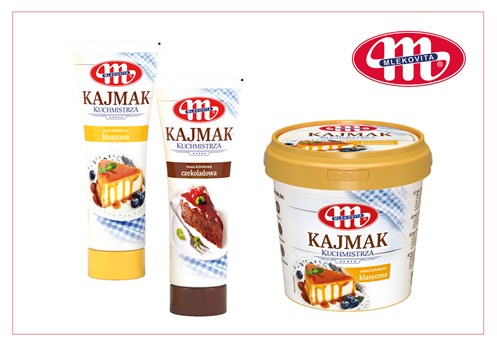 The Kajmaki Kuchmistrza line is a dense, creamy fudge mass in two flavours: classic and chocolate. Offered in a ready-to-use form, it is perfect as an ingredient in desserts and all kinds of sweet dishes. Perfect for pancakes and waffles, it also perfectly enriches the taste of cake creams, ice cream and desserts. It is perfect for filling crispy cupcakes and cakes, and decorating home muffins. It can be used to prepare and decorate cheesecakes and honey cakes. It is also suitable for sweet sandwiches: spread on bread or as an addition to curd snacks.
Super Body Active protein drinks line 350 g
Spółdzielnia Mleczarska MLEKOVITA - applicant and producer
Super Body Active is the first milk protein drink in Poland available in 3 flavours: strawberry, banana and chocolate. The perfect combination of carbohydrates and increased amount of protein is an excellent solution for people leading  an active lifestyle. Available in optimal 350 g portions. Thanks to its convenient, ready-to-drink form and the cardboard box with a wide screw cap (on-the-go format), it can be drunk anywhere and anytime.
Polski homogenised cheese line 150 g
Spółdzielnia Mleczarska MLEKOVITA - applicant and producer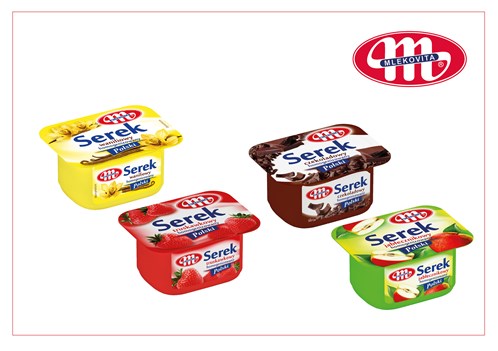 Polski homogenised cheese comes in four flavours: strawberry, apple, vanilla and chocolate. The delicious cheese is characterised by an exceptionally fluffy, delicate consistency, is made of natural raw materials, and most importantly it has a simple composition. It is an excellent dessert for both children and adults.
WYPASIONY cheese line 125 g g
Spółdzielnia Mleczarska MLEKOVITA - applicant and producer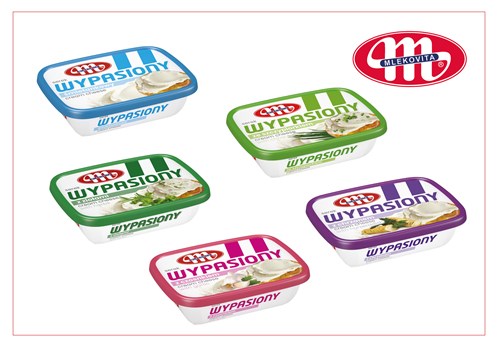 WYPASIONY cream cheese with a creamy consistency and creamy taste is a novelty offered in five unique variants liked by consumers: natural flavour, chives, herbs, horseradish and garlic. With its creamy consistency the cheese is ideal for any occasion: a delicious breakfast, a quick little something, tasty afternoon snack or dinner. The product is recommended not only for spreading on bread and toast, but also as an addition to crackers, an ingredient in dips, snacks, dry creams, sauces or stuffing for meat and fish.
Cheddar cheese line: piece; slices; shavings; cheddar & mozzarella shavings
Spółdzielnia Mleczarska MLEKOVITA - applicant and producer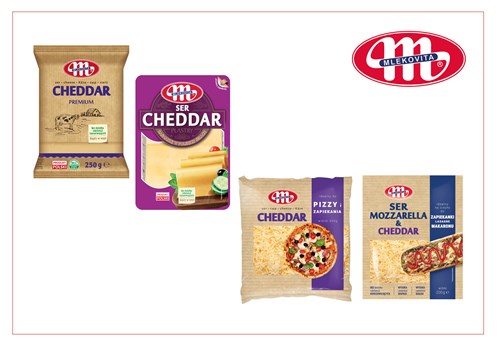 Cheddar cheese is a hard-type maturing cheese made of pasteurised milk. It is an excellent source of calcium and protein. It is perfect for an exquisite cheese board, as an independent snack or ingredient of salads and side dishes, as well as many baked dishes, pasta and pizza. Cheddar is produced according to a unique, traditional recipe of cheese-making masters. With its expressive, intense and distinctive taste, it provides an unforgettable experience to even the most demanding consumers. Available in 250 g pieces, 300 g slices, 300 g shavings and 200 g shavings with mozzarella.
Diamenty Konesera long-maturing cheese line
Spółdzielnia Mleczarska MLEKOVITA - applicant and producer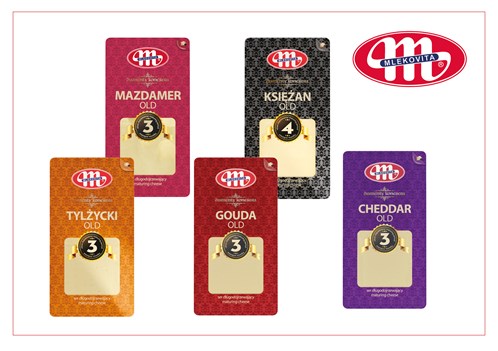 Diamenty Konsera (Connoisseur Diamonds) is an exclusive line of MLEKOVITA long-maturing cheeses. The cheeses included in its composition: Księżan Old, Cheddar Old, Gouda Old, Tylżycki Old, Mazdamer Old and Mocarski Old owe their taste to a four-month period of maturing in carefully selected conditions. The long-maturing cheeses are perfect for an exclusive board of cheese, toothpick appetizers or as a stand-alone snack. The cheeses taste perfect with honey or fruit − both fresh (e.g. grapes, pears, juicy ripe mango or figs) and dried (e.g. apricots, plums, cranberries). The cheeses in the Diamenty Konesera line also harmonise excellently with slightly sour jams, nuts (e.g. walnuts, cashews, pistachio nuts, almonds, pecans), olives and dried tomatoes. The exquisite taste of the cheese will be emphasised by the spicy combination with chilli pepper.
La Polle blue cheese line
Spółdzielnia Mleczarska MLEKOVITA - applicant and producer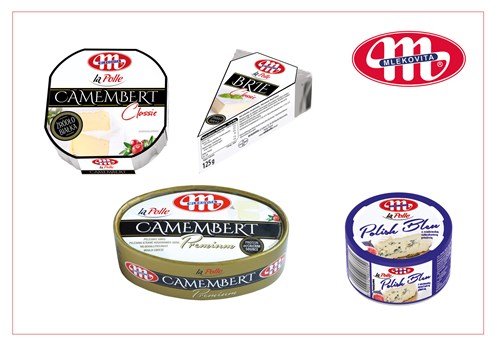 La Polle blue cheese line includes: Camembert, Camembert premium, Brie and Bleu cheeses. Blue cheese from Mlekovita is a noble classic in its category, and at the same time a bit of exclusivity every day. Thanks to unique recipe Camembert, Camembert premium and Brie cheeses are covered with a velvety skin of precious species of mould and stand out with creamy melt-in-the-mouth interior. La Polle Polish Bleu cheese with noble mould is exclusive blue ripened cheese with white mould growth and blue noble mould overgrowth. Its moist interior with a distinctive, buttery, slightly salty flavour is obtained thanks to a special production process according to the unique recipe of masters of the cheese-making industry. The unique taste and aroma make La Polle Brie blue cheeses a very popular ingredient of many recipes, and are also irreplaceable on the cheese board.
NATURAL sour cream and Polish sweet cream line
Spółdzielnia Mleczarska MLEKOVITA - applicant and producer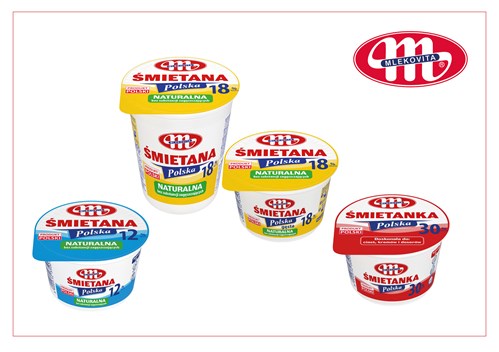 Śmietana Polska (Polish cream) is obtained from the highest quality raw material, it is characterised by a pleasant, fresh smell, light cream colour and a uniform, thick consistency (12% and 18%), distinguishing it from other products of this type. The line of Polish creams is a complete assortment that meets the diverse needs of consumers. It is perfect for creating appetizing food compositions with an excellent taste. Polish Cream with a fat content of 12% and 18% is ideal for soups, sauces, salads and other dishes, the taste of which needs to be emphasised with thick, slightly sour cream. On the other hand, Polish Cream with 30% fat content is ideal for preparing whipped cream and desserts, especially with fresh seasonal fruit.
UHT Polish Cream Line: 30%, 36% 1L; 12%, 18%, 30%, 36% 500 ml; 12% 330 ml; 18% 330 ml, 30% 330 ml; 12% 250 ml, 18% 250 ml; 30% 250 ml
Spółdzielnia Mleczarska MLEKOVITA - applicant and producer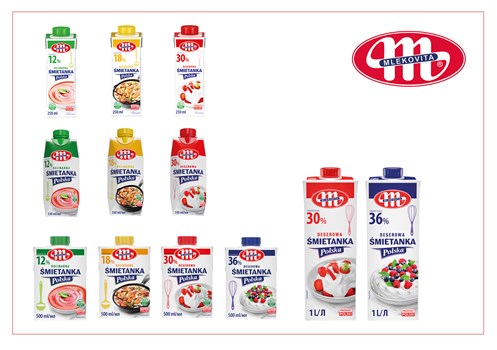 UHT Polish Cream is a popular product of the MLEKOVITA brand, offered in the assortment of the top line, emphasising the Polish character of the product. The Polish Cream in convenient cardboard boxes with a screw cap fits perfectly into any kitchen. The product is available in four variants: 12%, 18%, 30%, 36% fat content. Polish Cream is a UHT product − it does not require refrigeration.
Type 405 wheat flour 2 kg
Krajowa Spółka Cukrowa S.A. - applicant, Przedsiębiorstwo Zbożowo-Młynarskie "PZZ" in Stoisław S.A. - producer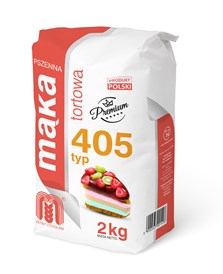 Wheat flour type 405 2 kg is the answer to the current needs of consumers. It is made of selected wheat, 100% natural. It is high-quality, low-ash flour, very light, highly appreciated by consumers for its lightness, shallowness and reliability in baking cakes and sponge cakes. The flour is packed in an economical and functional two-kilogram package with an attractive graphic design.
FOODTECH
SALON 
VX222 Rheon gravimetric divider with a stress-free dough dividing system
HERT Sp. z o.o. Sp.k. - applicant, Rheon - producer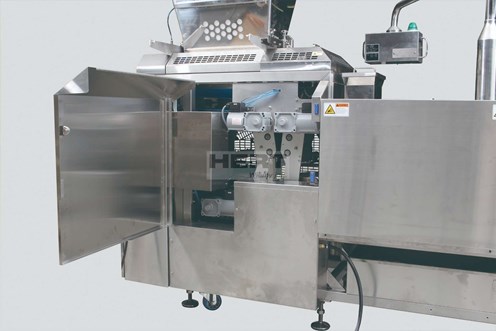 The gravimetric divider VX222 Rheon divides the most demanding doughs very delicately and precisely in terms of weight, thanks to which we obtain high-quality bread.
XWW-100 chamber rotary trolley washer
Przedsiębiorstwo Handlowo-Usługowo-Produkcyjne CLEVRO Robert Klemba - applicant and producer
The chamber trolley washer is equipped with a rotating platform on which trolleys are loaded and a system of mechanically driven washing heads which, in combination with a double pump system, ensures the highest washing parameters: washing power and coverage. The system of washing heads used, combined with a rotating platform and high washing force, gives a unique and the most powerful washing system on the market, successfully used in the meat, fish and bakery industries. The highest washing power is supplemented by the possibility of heating the washing bath with all available types of heating: electric, steam, live steam or exchanger, gas or oil, but it is worth noting that we are the only one on the market to offer gas and oil heating thanks to the use of special exchangers adapted to work in dirty water. It is available in in-floor and on-floor versions with ramps. As the only solution one on the market, it also has the option of installing rotary drum filtres.
OPTiX
FOODMATE B.V. - applicant and producer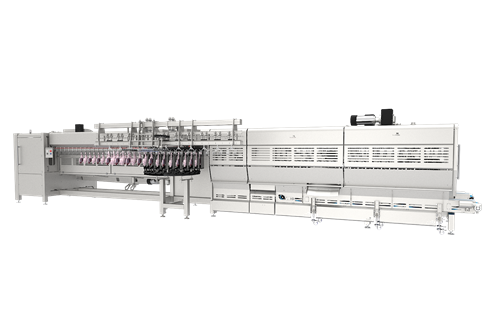 OPTiX is a device for processing whole chicken legs. The machine debones chicken legs and cuts thigh bones to form a high-quality chicken leg and boneless chicken leg fillet. It is characterised by high efficiency and an advanced X-ray system. The OPTiX can handle up to 14,400 chicken legs per hour. The machine measures each leg and, based on the x-rays, automatically adjusts each stirrup with the product to the optimal settings, resulting in unmatched performance and perfect anatomical cuts. The deboner is designed according to the latest hygiene and safety regulations, making it a food safe and sustainable machine. Loading can be done manually by 4 people or using the Foodmate automatic leg suspension system.
Band saw BLADESTOP
WEINDICH Sp.j. - applicant and producer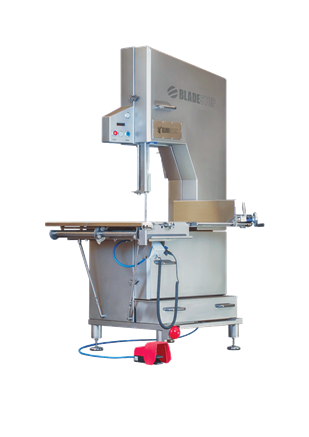 The band saw blade with world-leading BladeStop™ safety technology has been designed to reduce the risk of injury by immediately mechanically stopping the blade when the device detects unwanted contact between the operator and the blade. Thanks to the use of this technology, the risk of an accident at work is significantly reduced, even in difficult operating conditions.
Multihead cooling fog system
Telesto sp. z o.o. - applicant and producer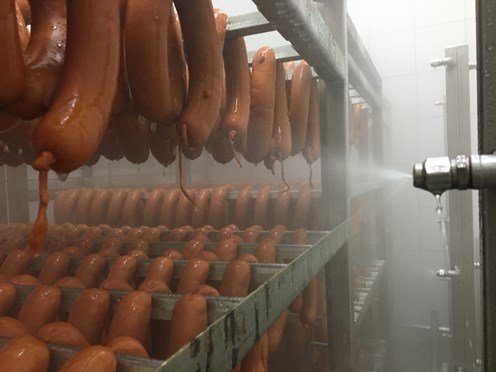 Last year, Telesto developed a fog system for cooling meat products after the smoking/steaming process. The tests carried out at the cured meat producers showed that the use of this system resulted in enormous savings in water consumption and thus in the reduction of the amount of sewage.
During the tests, the decrease in water consumption ranged from 50% to even 70%. Another interesting relationship emerged from the calculations − the ROI for the system installation costs takes about 6-8 months. Thanks to this, it was possible to implement the first systems and obtain very good references.
THE GOLD MEDAL - CONSUMERS 'CHOICE
From today, you can vote for the selected product in the Gold Medal - Consumers' Choice poll. Voting takes place in two categories: FOOD and FOODTECH. Links to the voting zone below: